House Swann
'Who said Role-players can't fight'
Introduction
Welcome to the Knights of House Swann. We are a very serious clan who play the game with every intent to win. We push to achieve high morale within the clan, by not only just playing Mount and Blade, but creating a friendly community where all is welcome.
Recruitment
To become a Knight of House Swann, Please add the following people on steam:
https://steamcommuni...om/id/bigrazdog
History
The clan was formed in the early January 2017 and from that day we grew and grew in numbers and formed a friendly community. However throughout this time our activity was hardly the best. But from our leader becoming more active and gaining new members in our community, we can be considered as a growing clan within the Mercenaries community.
Clan War History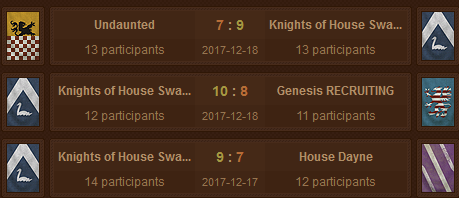 Roster
Swann Leader
Cedrick
Strand
Swann Captain
Valley
Jacko
Swann Members
Josh
Shark
Chinkilla
Condanfin
Greybeard
Saxxxio
Lidneyyy
Shogunai
Halbert
Dixie
Gezelius
Manfred
Howell
Greayguy
Jeff
BADASS
Aymanamri
Rupey
Retamar
Blam
notasclassy
Turin
Joshua
HORDE
Prawn0
Hursty
Bronxh
lol jk wanna die kek x
Edited by ValleyP, 23 January 2018 - 17:48.